Efficiency MES
Efficiency MES enables standardisation of processes, equipment and activities to obtain faster benefits in productivity, quality and cost savings in operations.
WHAT IS IT?
It is an MES application that enhances and boosts production capabilities, covering the main IT needs of a manufacturing plant.
The application consists of various optional modules, from real-time capturing via tablets in the basic version, to the full potential of an advanced MES.
HOW CAN "EFFICIENCY" BOOST AND IMPROVE PRODUCTIVITY?
Reduces manufacturing costs, increases performance and security, reduces rejects and provides higher quality products.
Tighter tracking of manufacturing orders and improved product quality increases customer satisfaction.
Real-time control contributes to improving the response capacity in the face of unforeseen events.
Real-time operator incident capture on site via terminals or tablets.

The application interfaces are designed for quick, simple use, and are easy for the operators to learn how to use them.

Real-time control of times and materials.

Monitor the situation of your operators, machines and work orders.

Optimise your production via planning.

Perform quality controls.

Possibility to connect PLCs and machines.
BENEFITS
Streamline decision-making

Save administration time

Planning of resources

Implementation of a resource maintenance plan

Eliminate production errors

Digitalisation and availability of documentation

Information immediacy
Efficiency MES Video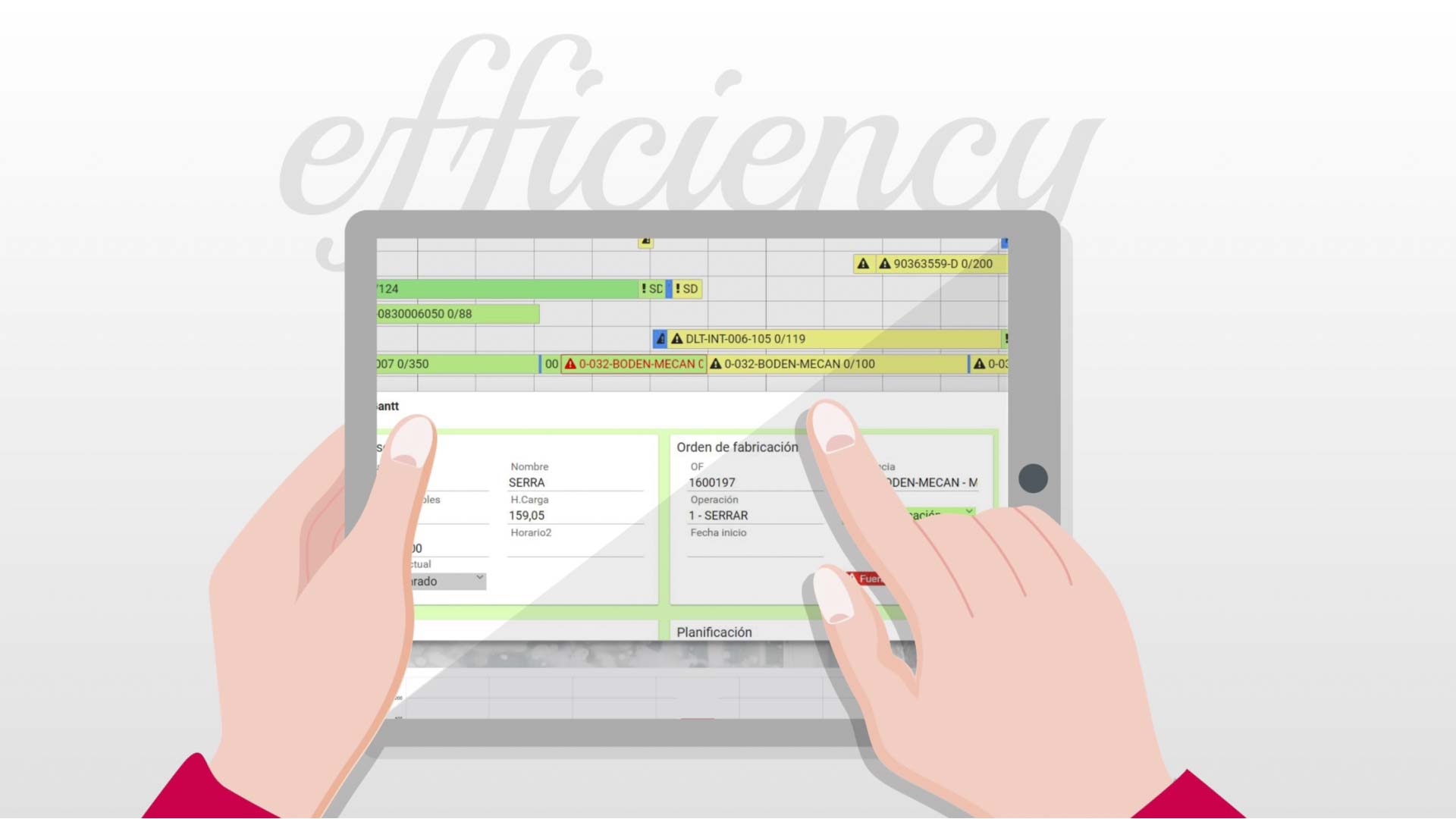 Play Video
DETAILED FEATURES
Efficiency streamlines the command flow and production execution, as well as monitoring the transformation of raw materials into finished products. It also permits the assessment and analysis of performance, quality and use of resources.
On-site data capture in real time.

Document management in the factory.

Automated work bulletins.

Auto-control guidelines for quality and management of control tools.

Consult the factory status online.

Control manufacturing defects.

– Recoverable / Disposable parts, KPIs, Pareto analysis and statistics…
– Imputation of defects to sections, operators, suppliers, components, phases.

CMMS (Preventive and Corrective Maintenance).

Manufacturing by order groups.

Non-conformities according to ISO.

KPIs, indicators, graphics…

Advanced planning (finite scheduling).

– Lead Time calculation.
– Prioritisation of tasks.
– Resource calendar.
– Gantt.

Item Configurator.

Industry 4.0 with the module Efficiency Control 4.0.

Operator/machine versatility.
INTEGRATION WITH ERPS
We have extensive experience in the integration with different ERPs (SAGE, Microsoft, SAP, etc.). This integration is totally transparent for the user and functions in real time.
Would you like some more information?
Contact us and we will help you find the right solution for your company.